How to Measure for a Fireplace Insert
If you're looking to upgrade your fireplace, installing a fireplace insert is a great way to increase efficiency and add a modern look. A fireplace insert is a type of wood-burning stove that fits into an existing fireplace, and can provide efficient heat and a beautiful focal point to any room. Before you purchase an insert, however, you must accurately measure your fireplace opening to ensure the right fit.
Here are the steps to measure for a fireplace insert:
1. Measure the fireplace opening. Using a tape measure, measure the width, depth, and height of the fireplace opening. It is important to measure the entire opening, including any existing hearth or trim. Make sure to record the measurements accurately, as this will be used to determine the size of the insert.
2. Measure the depth of the firebox. The depth of the firebox is the distance between the back wall of the fireplace and the opening. This measurement is also important for selecting the right insert.
3. Check for obstructions. Ensure that the dimensions of the insert you select will not be obstructed by any existing trim, mantel, or other structures.
4. Check the flue size. Measure the inside dimensions of the flue, as this will determine the size of the insert you need.
5. Choose the appropriate insert. Using the measurements you have taken, select an insert that will fit into the fireplace opening. It is important to note that the insert should be slightly smaller than the opening, as this will ensure that it fits securely in place.
Following these steps will help you choose the right fireplace insert for your home. Remember to research your options and take accurate measurements to ensure that your insert fits correctly and safely.
 How to Measure a Fireplace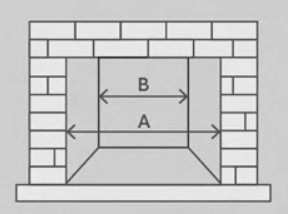 1. Measure the width of your fireplace opening.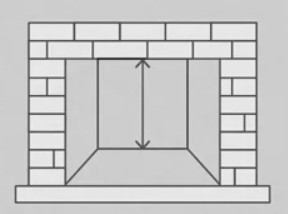 2. Measure the height of your fireplace opening.